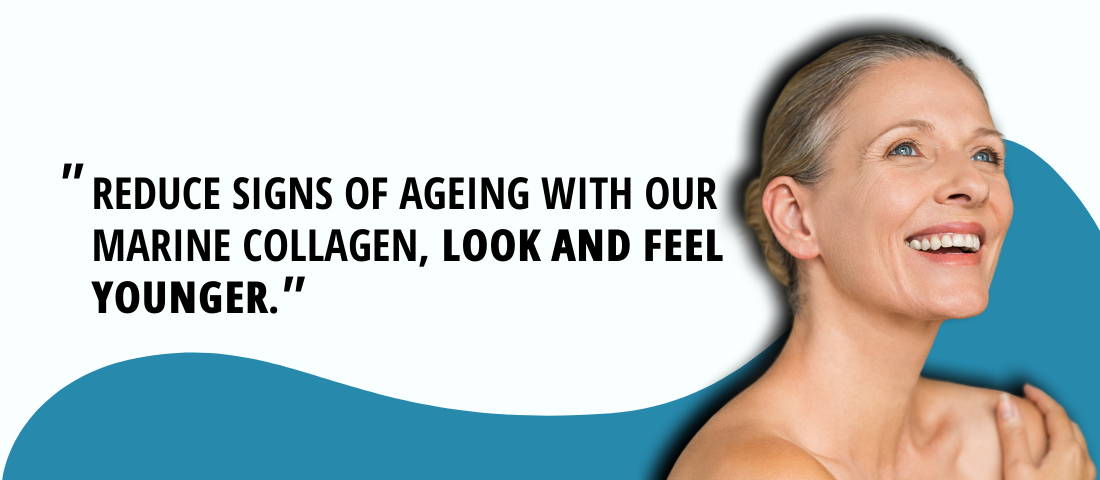 As we age 25+ the collagen(structural tissue which creates smooth skin and shiny hair) levels in our body naturally decreases which causes your skin to wrinkle and sag.

As we age Collagen levels can declineby as much as 50% This result is wrinkles, sagging skin and sore joints (among other things).

If you are looking for ways to improve our health and well-being. Collagen supplements are an easy, inexpensive way to support the body.

What's with all this talk about collagen? Collagen production decreases by approximately 1% with each year of age after maturity (about age 21), leading to a loss in firmness and elasticity of skin.




Your body needs collagen to keep the skin looking young and healthy.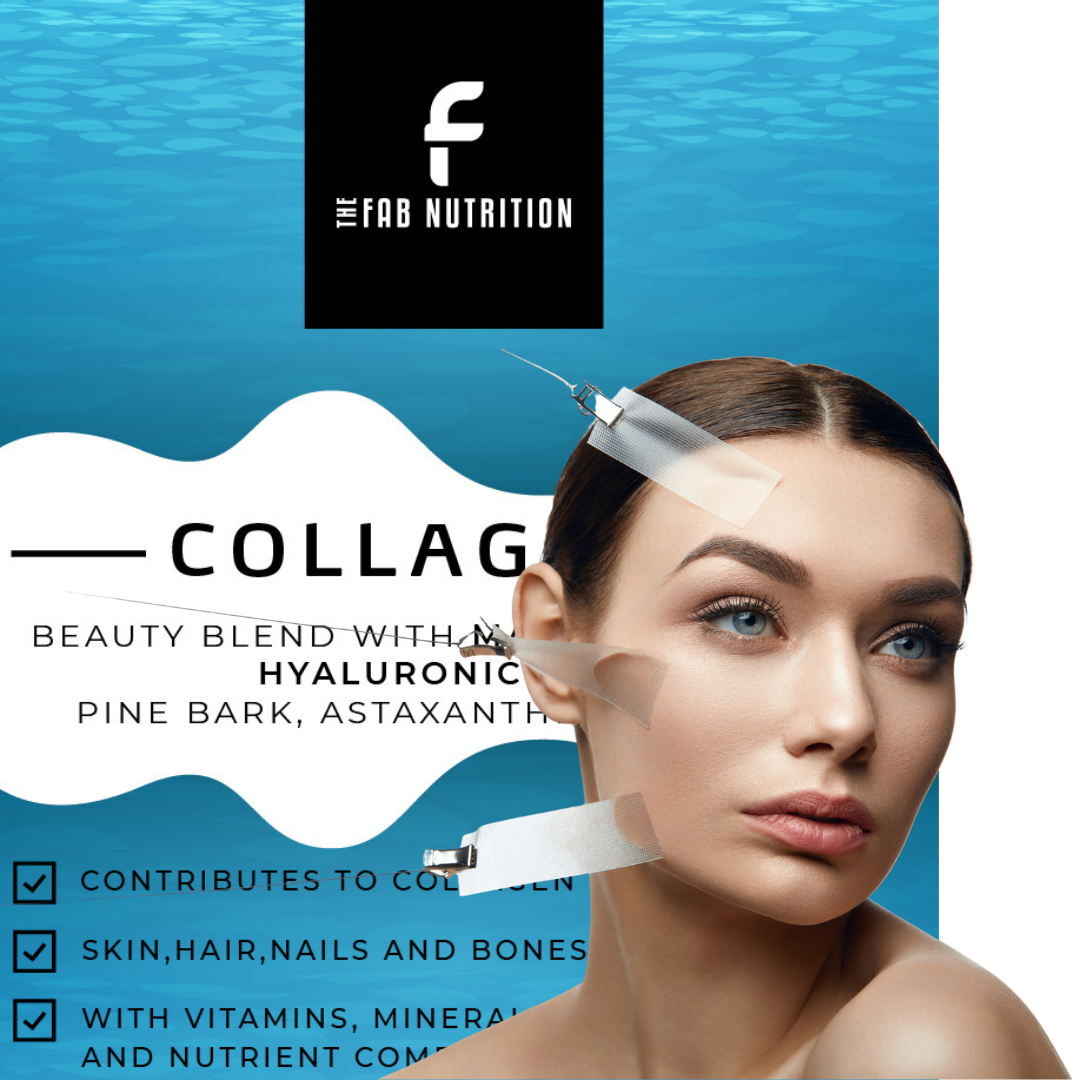 REDUCE SIGNS OF AGING FOR MEN AND WOMEN
Collagen supplement helps to bring back elasticity into skin and also helps to reduce wrinkles, diminish dark circles making your skin look and feel younger.
MARINE COLLAGEN IS SUSTAINABLE
Creating marine collagen this way helps to lower environmental pollution and is sustainable in its creation. We use eco-friendly packaging
It contains a tailored combination of marine collagen, as well as a clever vitamin, mineral, herbal and nutrient complex to support collagen formation
Collagen promotes healthier, thicker and faster growing hair as well as calming itchy skin, or inflamed scalps.
Collagen helps to reduce nail breakage, and aids nail health for those that are prone to splitting or peeling.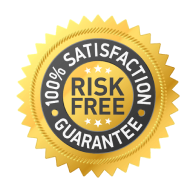 And you are 100% safe to try this out. That's all we are suggesting. Just try it for 30 days to see if it works for you. If it does, you'll be delighted - and we think that's exactly what's about to happen. If for some reason you're not delighted with the product then just let us know - and you get all your money back.
CHOOSE YOUR BUNDLE AND SAVE BIG!
How long until you get results?
75% noticed improved skin*
*Results from the consumer self-assessment study using the product for 6 weeks
Is marine collagen sustainable??
Yes. marine collagen peptides are made from the skins and scales of that would otherwise be discarded in the fillet process.
Does it have a taste of fish?
No ,It doesn't taste of fish at all
It can be taken at any time of day, but we recommend taking it daily in the morning.
Is it suitable for vegans?
it is NOT suitable for vegans or vegetarians.
Can I take it if I am pregnant?
As It is totally natural, you should be absolutely fine taking it during pregnancy but we strongly advise you consult your GP.
Take one to two capsules daily, preferably with meals.
Allergy advice:
Not suitable for persons with an allergy to fish.
Ingredients: Marine Collagen Powder (Peptan F2000ld) (Fish); Capsule Shell: Hydroxypropyl Methylcellulose (HPMC); Ascorbic Acid; Vitamin E Acetate; Hyaluronic Acid Sodium; Astaxanthin; Anti-caking Agent: Magnesium Stearate (vegetable source); Bulking agent: Brown Rice Flour; Nicotinamide (Niacin); Zinc Citrate; L-Seleno Methionine; Natural Silica (Bamboo Extract); Pomegranate Extract 40% Ellagic Acid; Pine Bark Extract; Grapefruit Seed Extract; Rosemary Leaf Extract; Cupric (Copper) Sulphate Anhydrous; Biotin Pure.
ALLERGY ADVICE: for allergens, see ingredients in bold. Not suitable for persons with an allergy to fish.
Contains no added: artificial colours, flavourings, preservatives, gluten, dairy, lactose, sugar, wheat or yeast.
60 capsules per pot
Dairy-free Gluten-free
Each capsule provides: %NRV*
Marine Collagen - 400mg -
Pomegranate* - 270mg -
Vitamin C - 40mg 50%
Hyaluronic Acid - 22.5mg -
(providing 2.4mg Ellagic Acid)
Vitamin B3 (Niacin) - 16mg 100%
Grapefruit Seed* - 15mg -
Rosemary Leaf* - 15mg -
Pine Bark - 5mg -
Silica - 5mg -
Zinc - 5mg 50%
Copper - 0.5mg 50%
Astaxanthin - 0.2mg -
Vitamin E - 16.4iu 92%
Biotin - 200mcg 400%
Selenium - 50mcg 91%
*NRV = Nutrient Reference Value
- = NRV not established | * = Equivalent herb weight

Only the highest grade hormone-free milk, sourced from EU and British grass-fed cows

We provide free delivery.